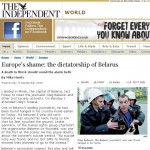 A very slightly edited version of this article was originally published in The Independent newspaper on 8 September 2010.
On Friday, Aleh Byabenin, one of Belarus's leading journalists and human rights activist, was found hanged in his country home. His beloved 5 year old son's hammock was around his neck, hung so low that his feet touched the ground. Andrei Sannikov, the leader of Charter97, the organisation Byabenin co-founded, was one of the first at the scene. He has grave doubts about the coroner's official verdict that Byabenin hanged himself: "No suicide note was found, and his last SMS to friends showed they planned to go to the cinema". I landed in Minsk on Friday to meet Byabenin and other civil society activists. On Monday I will attend his funeral. People are in no doubt as to what really happened – and talk through tears about a man who had devoted 15 years of his life to fighting against President Lukashenko's dictatorship and was in no mood to quit. In hushed tones everyone fears a return to the period between 1997 – 99 when suddenly activists, business and journalists 'disappeared' without trace.
In the last year, human rights activists have faced continual intimidation from the authorities. On 6 December 2009, Yahen Afnagel, a youth leader, was kidnapped in broad daylight on the streets of Minsk and taken by van to a forest just outside Minsk. His hands were bound together and a bag placed over his head. He told me he was subject to a mock execution and men screamed at him it would be carried out for real if he continued to question the authorities. In just two months, 6 youth leaders faced mock executions.
The death of Oleg Bebenin in Europe, today
All of this is happening, today, on European soil. When Italian Prime Minister Silvio Berlusconi visited Minsk last November he told the country's dictator President Lukashenko, that his people "love you, which is shown by the elections". Never mind that the OSCE, which Italy is a member of, declared that the "presidential election failed to meet OSCE commitments for democratic elections." Realpolitik is order of the day, and the opening up of markets by the IMF and World Bank are paying dividends for businessmen and their political cronies in capitals across Europe. Britain is no better. Lukashenko has hired Lord Chadlington, one of David Cameron's closest allies (he bankrolled his leadership bid), on a public relations contract to improve his country's image. Lord Chadlington clearly has no qualms about taking money from a nation ranked 188 out of 195 countries for press freedom; where every single gay club has been shut down and gay websites are blocked, and where Lukashenko has personally approved the turning of Jewish holy sites in Belarus into multi-storey car parks as part of a vicious national campaign of anti-Semitism, according to the World Association of Belarusian Jewry.
Culturally too, Western artists are helping to soften the image of Belarus. This month Sting will perform a concert in the Minsk Arena. His rider is for potted trees in his dressing room. If he looks beyond them, across the road is Lukashenko's private residence built in the area of town that during the Nazi occupation hosted the mass killing of military prisoners. Whilst Sting performs, in an abandoned house on the other side of Minsk the banned Belarus Free Theatre will perform 'Discover Love', their play about the abduction and disappearance of businessman, democrat, and foe of Lukashenko, Anatoly Krasovski and his friend. Unlike the audience at the approved Sting concert, those attending performances of the Belarus Free Theatre are subject to harassment by the KGB.
Whilst Europe ignores the plight of the Belarussian people, the dictatorship is intensifying its efforts to stifle dissent prior to the Presidential election to be held at latest by February 2011. The KGB and intelligence forces are developing new, more subtle ways to target opponents. Accusations of scientology (illegal in France and Germany) and criminal libel abound. The short-term arrest and detention of political activists is now so routine that one youth leader told me he 'couldn't possible count' how many times he had been arrested. Yet, the old methods are still the most effective. Yesterday an anonymous comment on the Charter97 website simply read: "We will wipe all of you off the face of the earth. None of your relatives will ever produce the like of you again." The site's moderator, Natalia Radzina has recently been sent emails and SMS messages that say, "We will rape you", followed by her address. Yesterday she told me: "Lukashenko cannot frighten the IMF and other international investors by obviously murdering journalists and activists so my worry is, over the coming months up to the election, we will see a spate of mysterious suicides, road accidents and poisonings."
The case of Aleh Byabenin ought to ring alarm bells across Europe, yet it has barely been reported outside Russia. We cannot let Europe's politicians sleep walk into a cozy accommodation with a tyrant. Natalia Koliada from the Belarus Free Theatre, a close friend of Aleh asked me, how many more people must disappear or commit suicide until we take notice? Belarus is Europe's shame.