Just when you think it's safe to eat food in a motorway service station again after a high-profile intervention from Heston Blumenthal, the God of Mammon intervenes and reminds you that greed is bad. In particular, the greed that is The Burger Company is especially bad.
Here's what I got for £8.39: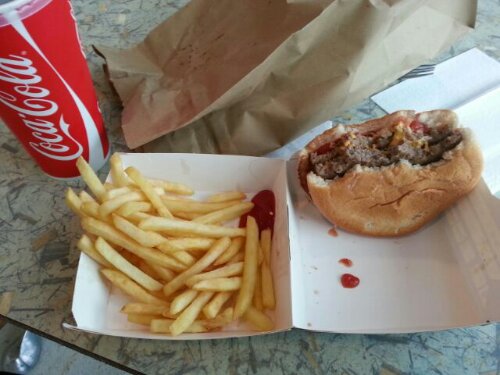 A double-score of grissle sandwiched between two flat baps with a drizzle of red sauce, plastic cheese and "I can't believe it's not" plastic bacon. Oh and a huge bucket of ice.
Yes, it's expensive renting space in a motorway service station but Byron burger, the Gourmet Burger Kitchen and Uncle Tom Cobley rent space in Covent Garden, some of the most expensive real estate on earth. As the excellent burger review site Burgaffair will point out, you can eat an amazing burger in central London for £9 so why not off a slip road on a toll road?