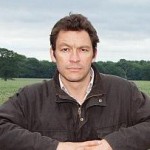 I have recently worked with documentary Tracy Worcester to raise awareness of her film 'Pig Business'. One method of profile-raising has been to engage leading actor Dominic West in the campaign and help him write about Tracy's campaign and individuals can do. In an article in the Daily Mail, with help from MJR Harris, Dominic outlined his concerns over industrial factory farms:

When public figures speak out about animal welfare issues, their views tend to be received with weary sighs. But the way we treat our livestock is not just a moral question. Industrial farming is making us ill.

Across Europe, in countries including Germany, Romania and Britain too, industrial pork production is on the rise. It is subsidised by our taxes, and yet no politician has ever asked us if we want it.

Thankfully, people power is on the march. Last Wednesday, I joined some of the locals who are objecting to plans for an industrial pig farm near the village of Foston in Derbyshire.