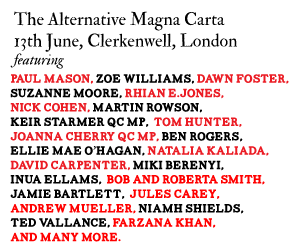 On 13 June, it's the Alternative Magna Carta festival in Clerkenwell, London.
Paul Mason, Zoe Williams, Nick Cohen, Suzanne Moore, David Flusfeder, Naomi Alderman, Ted Vallance, Tom Holland and many others – all for just a fiver!
It will be a major festival to commemorate the 800th anniversary of the Magna Carta with some of the biggest names in economics, literature, journalism, politics and art, will come together in Clerkenwell for a day of debate, discussion, film, music, literature, debate, speeches, poetry and polemic.
Hosted by Free Word with events from 89up, Little Atoms and friends for what promises to be the most vibrant political and literary festival this summer.
Tickets just £5 – a limited number available here.